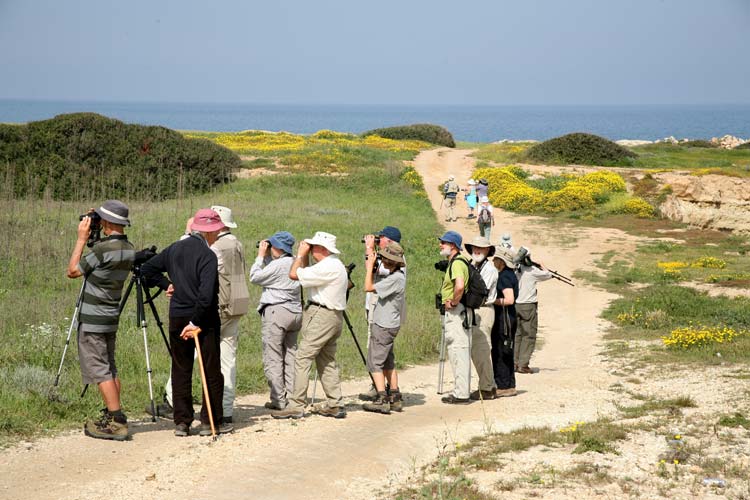 ---
North Cyprus is a great place for bird watching. Cyprus as a whole, has a good cross section of the wildlife to be found in Mediterranean. The Cyprus bird list currently stands at 386 species and includes seven species which, for sometime, were being considered for addition to the list, have just been added at the beginning of 2008. This includes 2 endemic species, Cyprus Warbler Sylvia melanothorax and Cyprus Pied Wheatear Oenanthe cpriaca. Both species are migrant breeders to the island. The Cyprus Pied Wheatear begins to arrive in March and by mid April some hold breeding territories. Breeding occurs in many different habitats from the pine woodlands of the mountains to the coastal scrub. The Wheatear departs in autumn to winter further south into Africa. Cyprus Warbler is also a migrant but small numbers do stay on the northern coastal strip and odd sites in the east during winter, when they are augmented by numbers of Sardinian Warblers that arrive to spend the winter. During March and April the Cyprus Warbler arrives back on its breeding grounds and likes low Mediterranean coastal scrub but also short open in the mountains.
In addition there are also 5 endemic subspecies of birds. These are Jay Garrulus glandarius glaszneri, Short-toed Tree creeper.
Cyprus is between two of the great bird migration routes' one from the Balkans to Africa, and the other from western Russia Southwards through Palestine to East Africa. March to May is the period of Northwards migration and August to October the Southward. Nesting birds are far fewer and the number and diversity of breeding birds and mammal species has decreased over the years due to hunting and changes in the habitat on the entire island. Prolonged periods of fine weather in spring may result in many birds passing straight over, so ideal conditions are when the weather is unsettled, there are showers, grey skies and northerly winds. These conditions force birds to land. Sometimes fall of birds can be impressive with many thousands of birds brought down by a passing storm.
The Karpaz Peninsula is located at the eastern end of the island. The area is protected with no development or hunting allowed. During spring migration many birds move along the Karpaz Peninsula, north east out to the sea. Many more pass to the east of Kantara Castle, turning west going around the island's northern mountain range and head for Korucam along the north coast. They move further north along the west coast and head for Koruçam, using this as a springboard for onward migration.
During winter large number of Nightingale, Golden Oriole, Blue Rock Thrush, Larks and Black Headed Bunting; all to be heard early in summer. The most spectacular and highly colored birds commonly seen is Cyprus are the Golden Oriole, Roller, Bee Eater, Kingfisher, Hoopoe and Flamingo.
Cyprus is in such a geographical position that, many birds cross this point on their long journeys to and from breeding and wintering grounds, thus new and very rare species are often found. The fact that North Cyprus has been so under watched means that there are potentially exciting finds awaiting the keen bird watchers for bird watching.
A list of bird watching sites in North Cyprus
The north east and Karpaz Peninsula.

Cape Andrea's (Zafer)

Famagusta Fresh Water Lake

Avtepe / Kuruova area

The north cost around Kaplica

Tuzluca Marsh

Silver Beach

Akova Reservoir

Demirhan pools

Akdeniz Reservoir

Cape Koruçam

Geçitköy Reservoir

Acapulco and Arapköy Reservoir

Haspolat

The Five Fingers Mountain and Herbarium
Useful bird watching references for North Cyprus
Book: Where to watch the birds in Northern Cyprus by Steve Cale
Kuskor is North Cyprus Society for the Protection of Birds.
Read on Cyprus location.