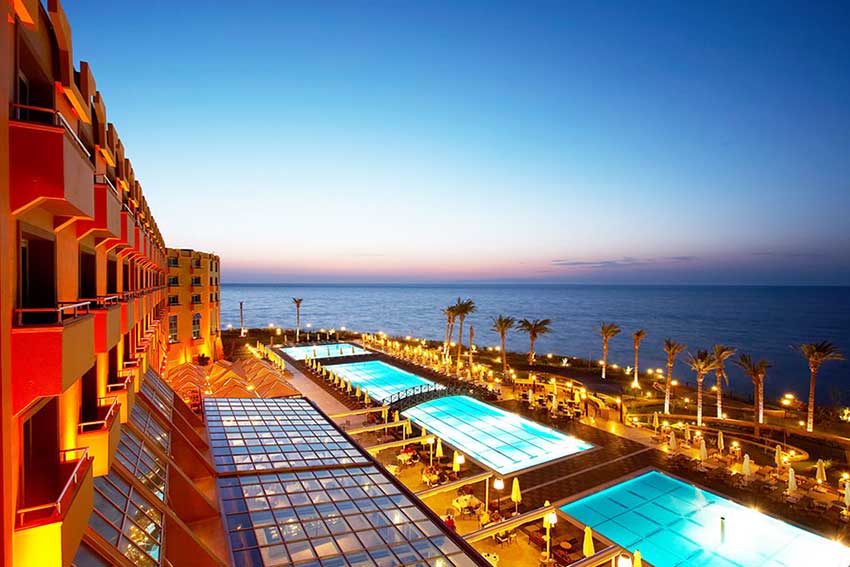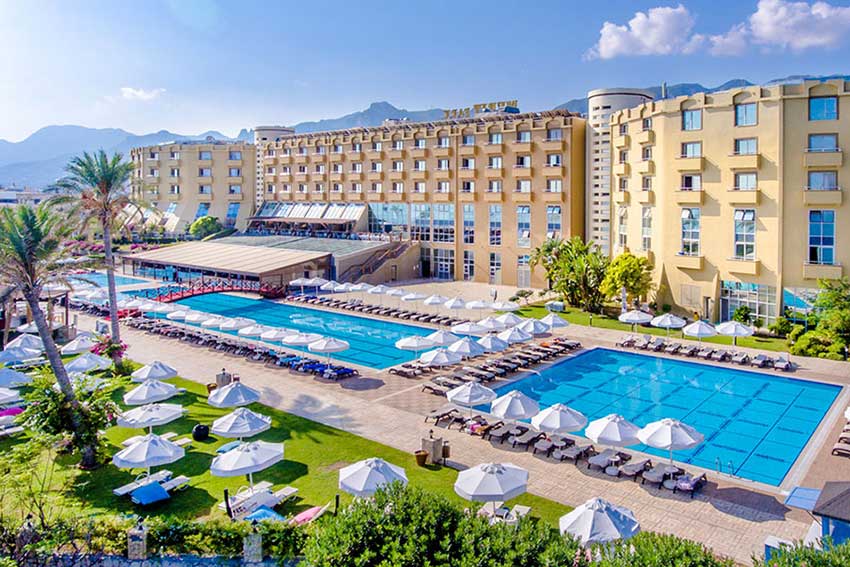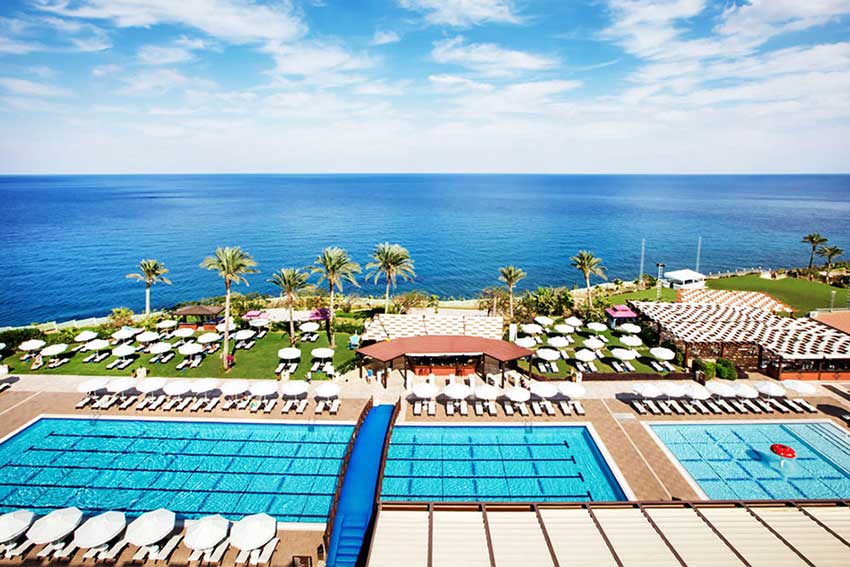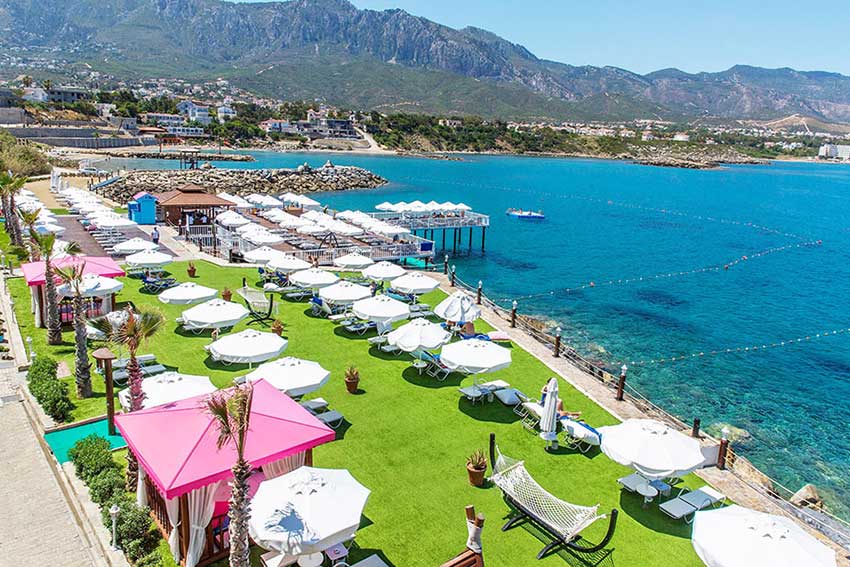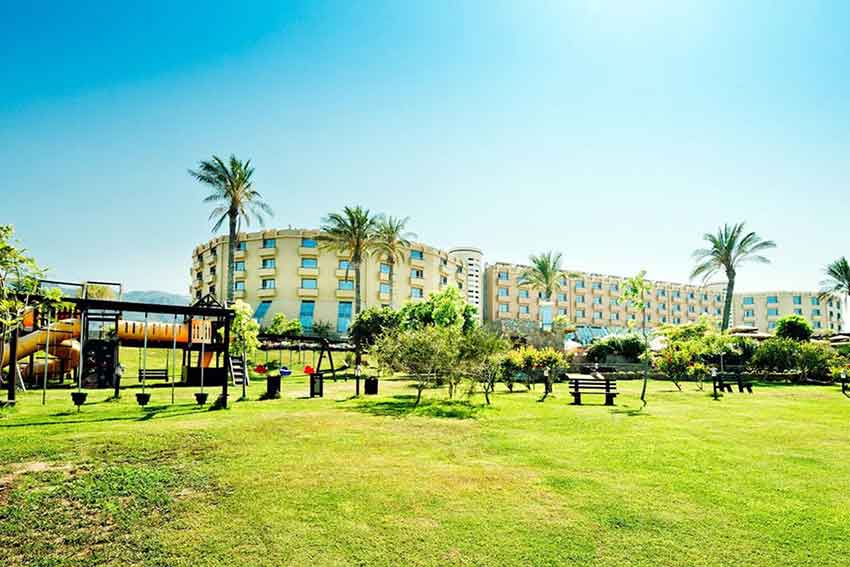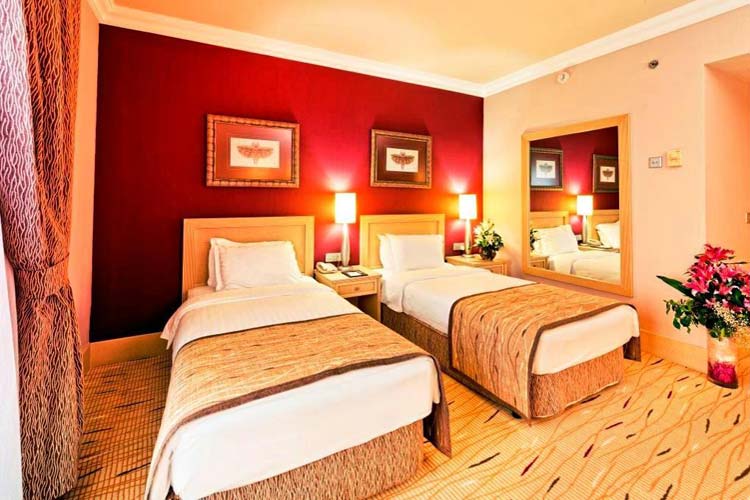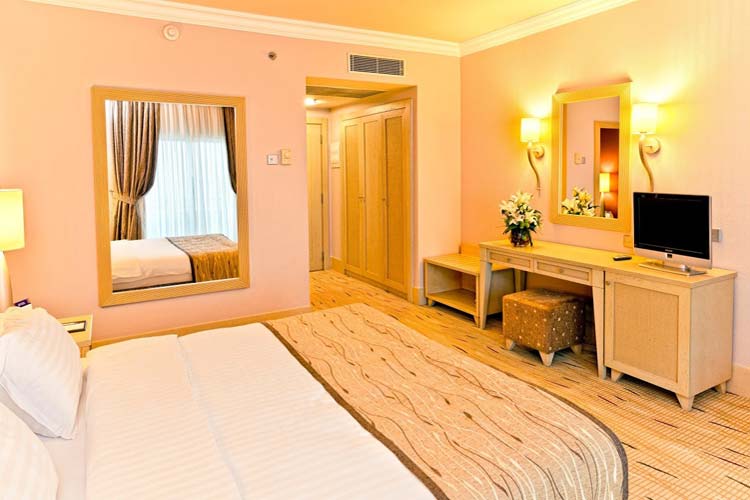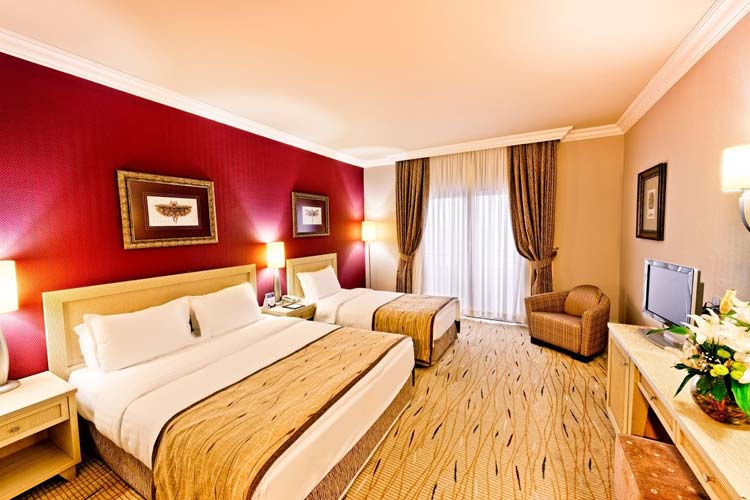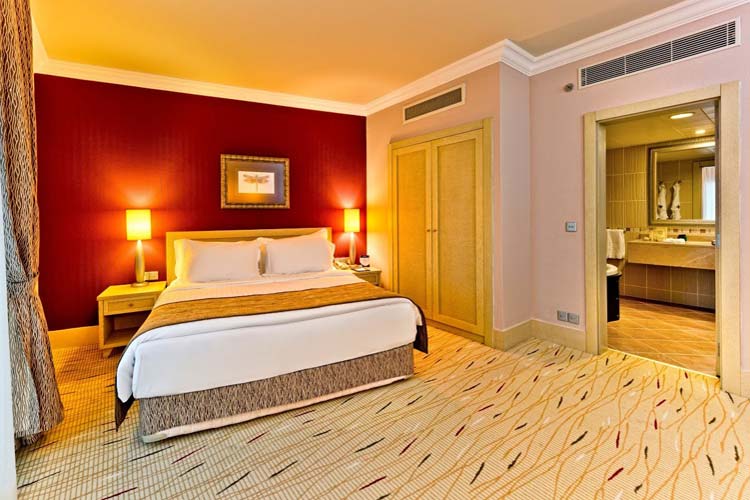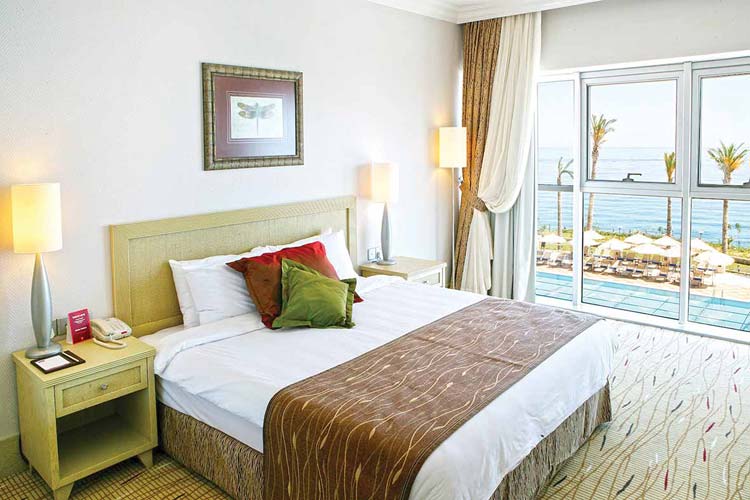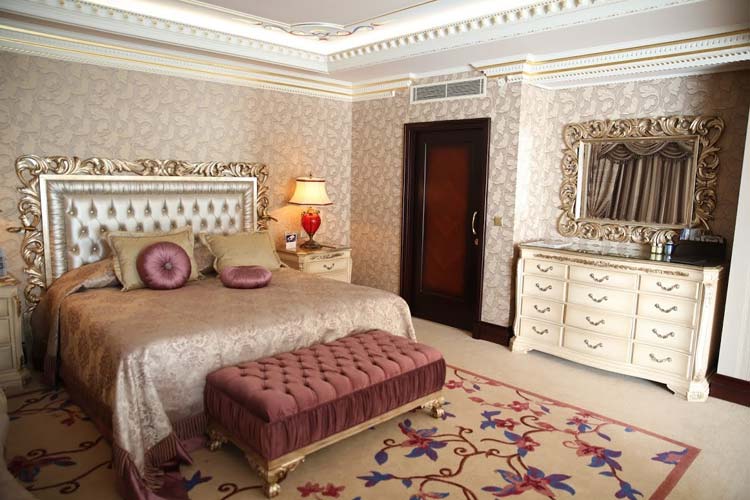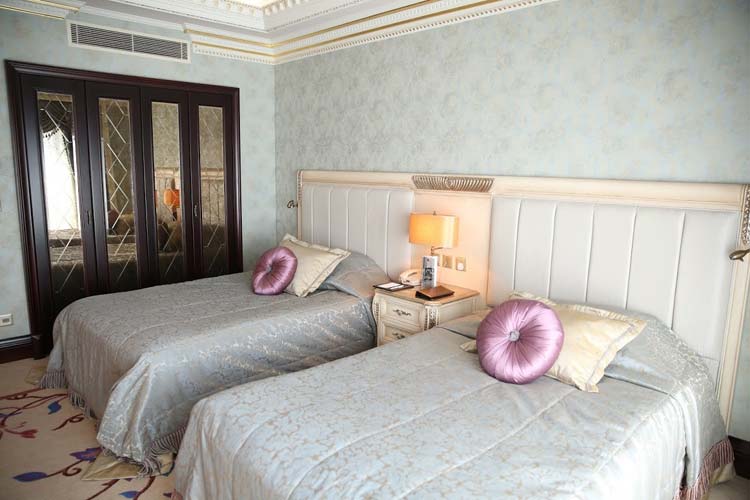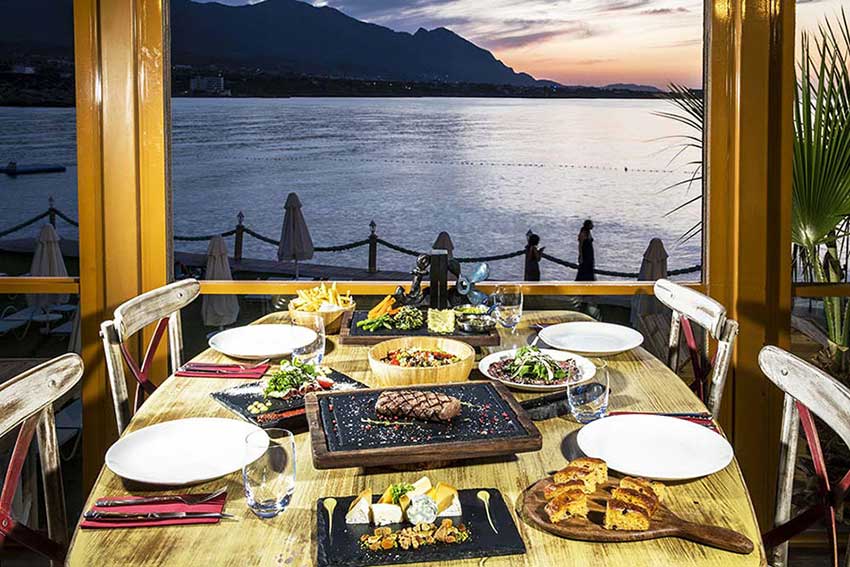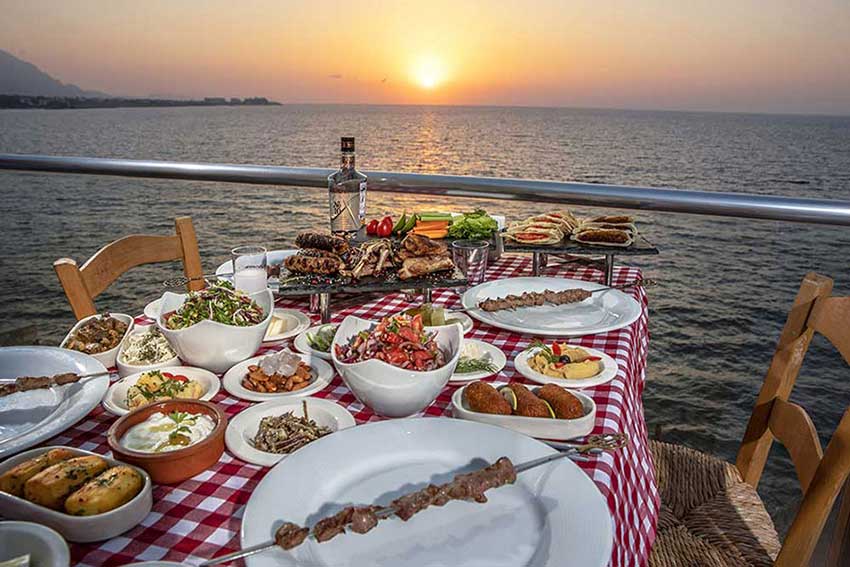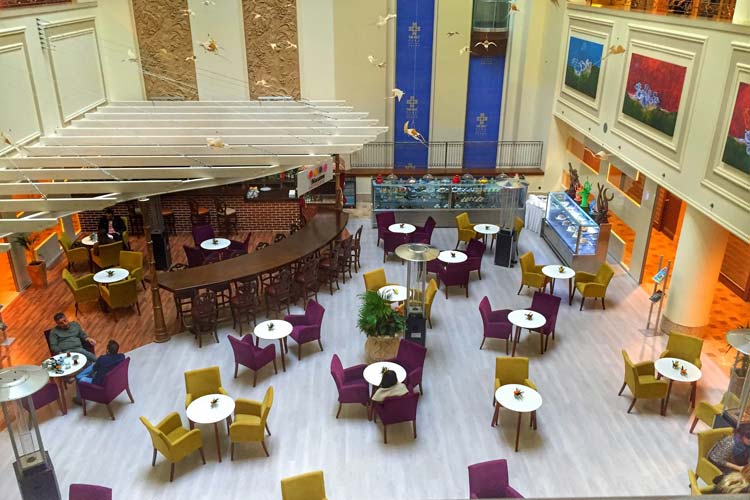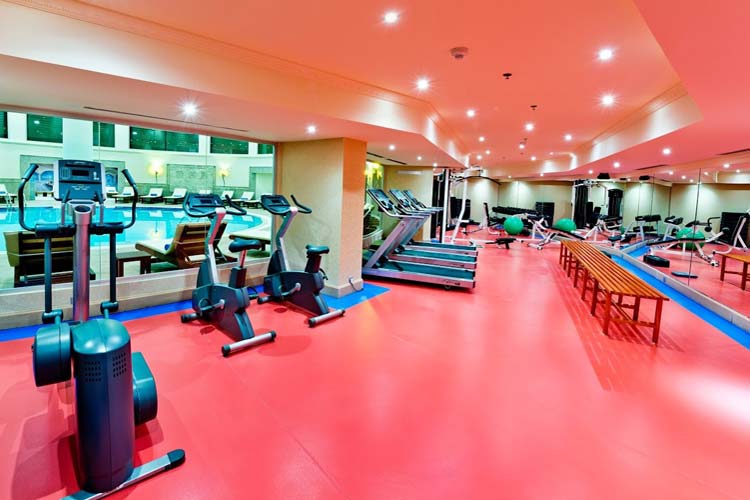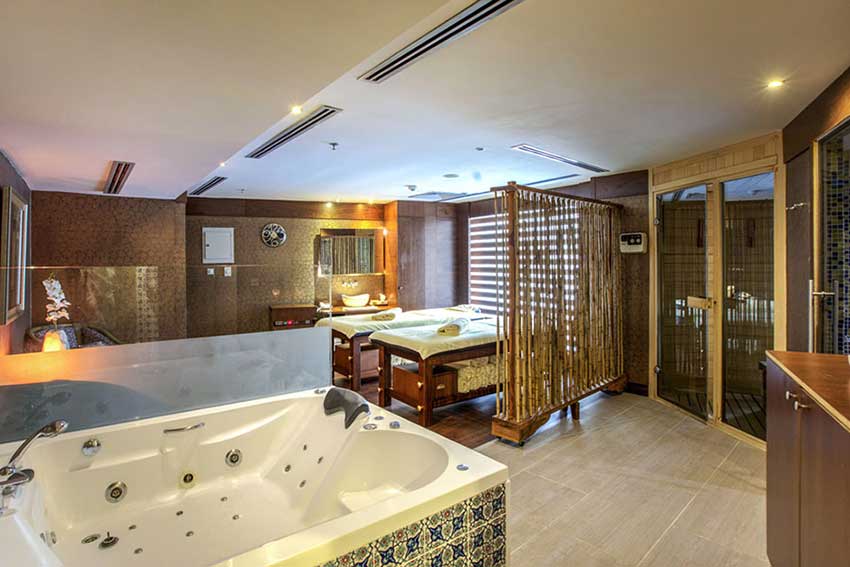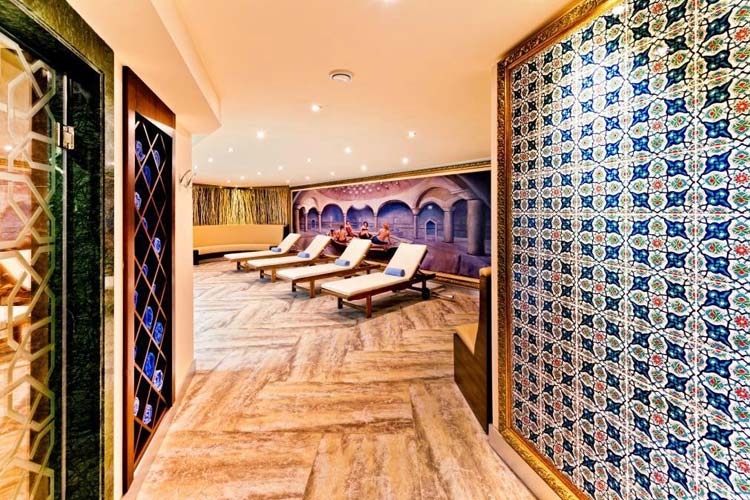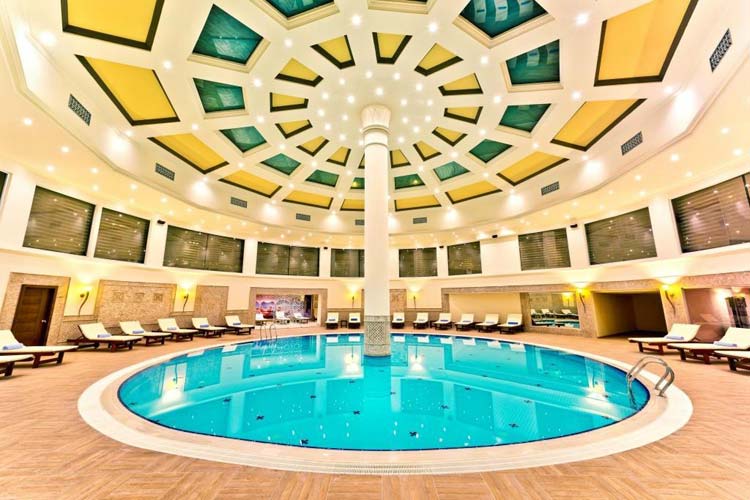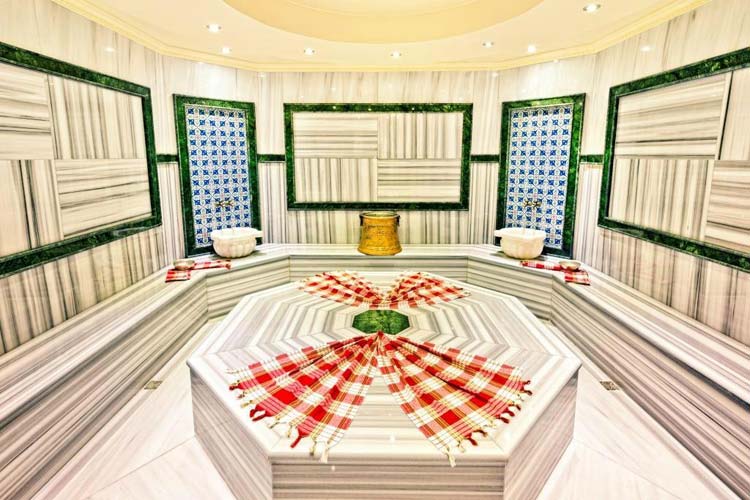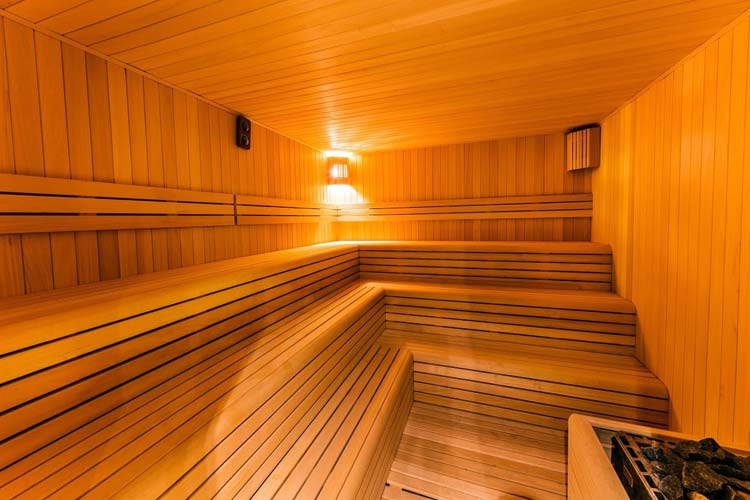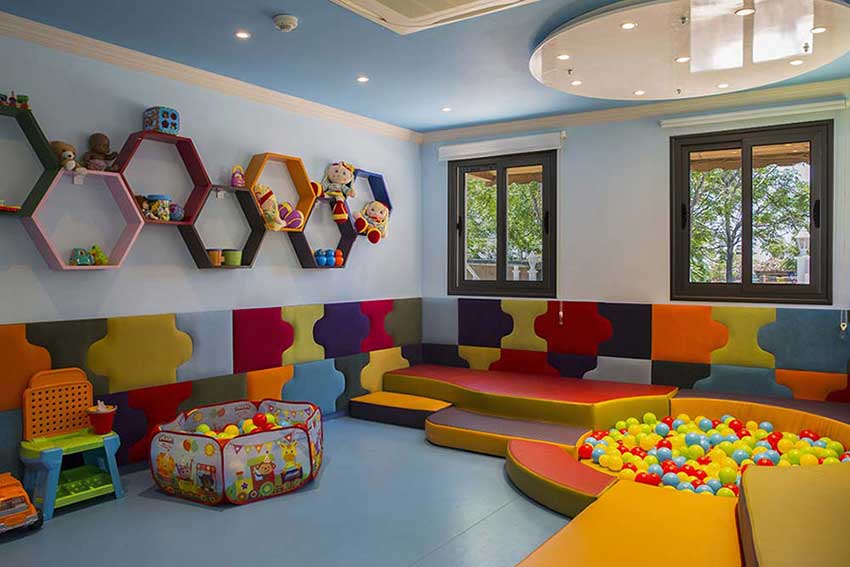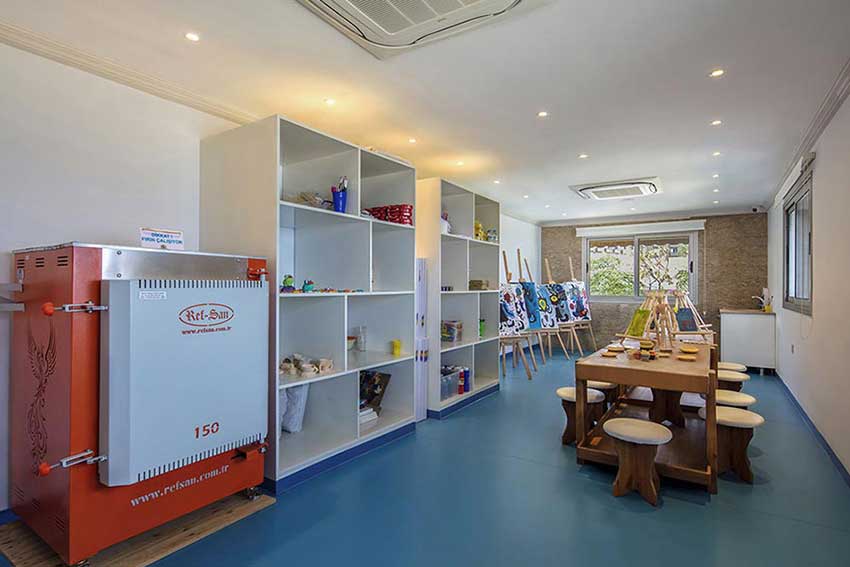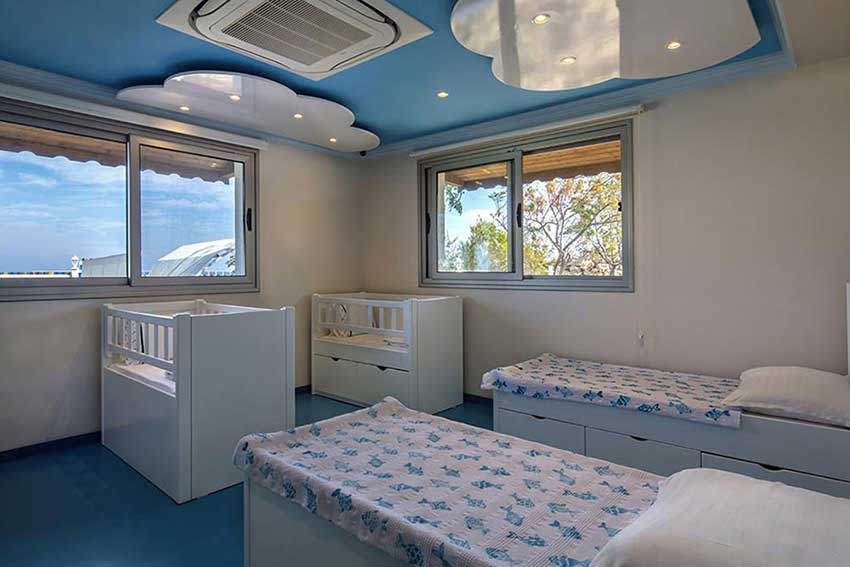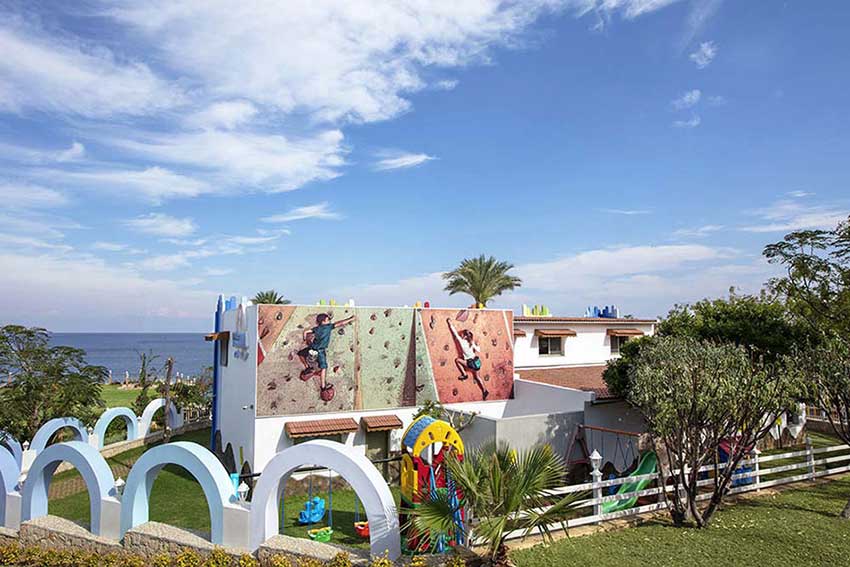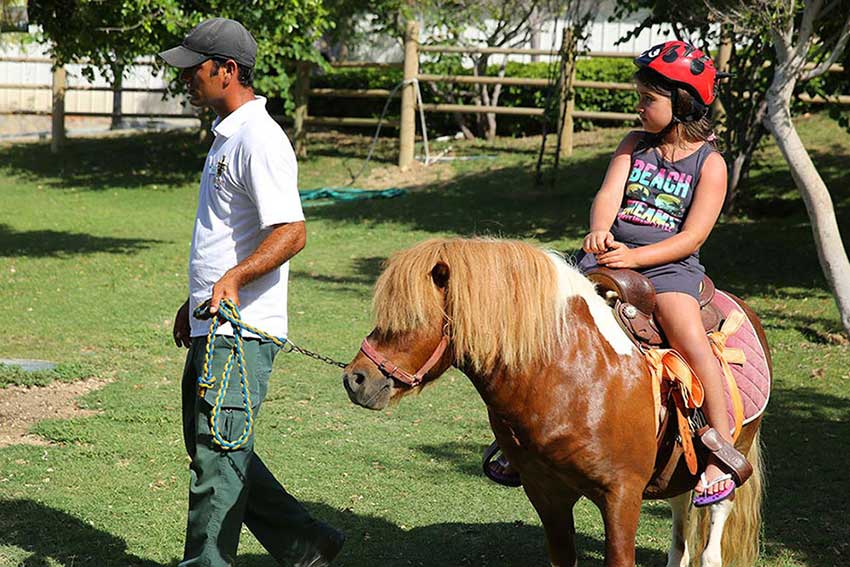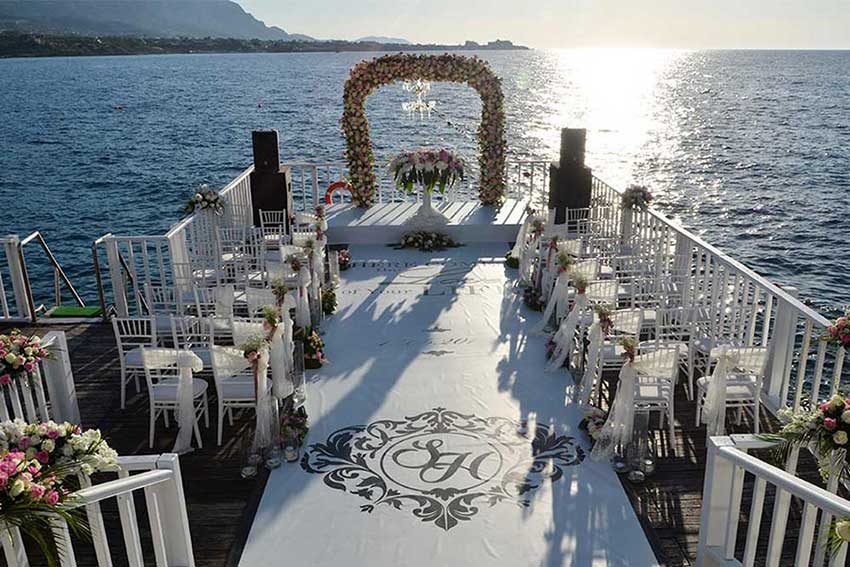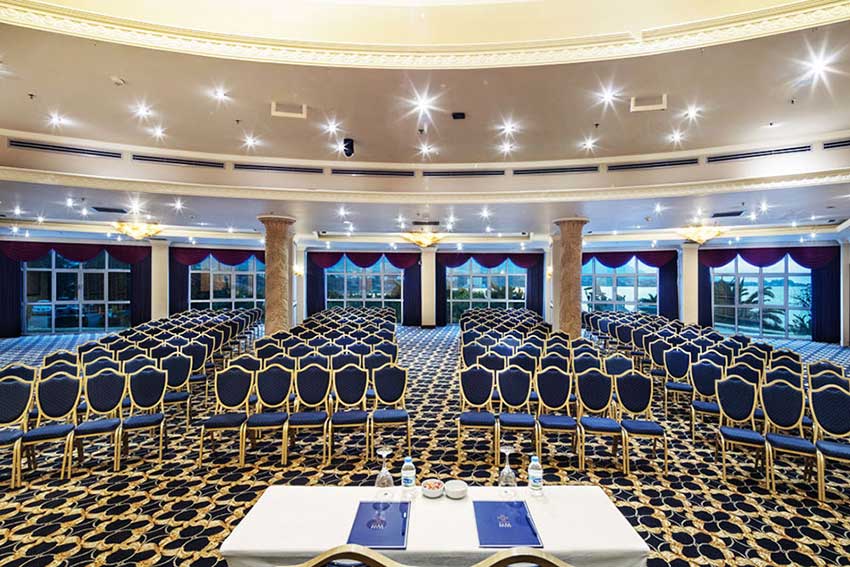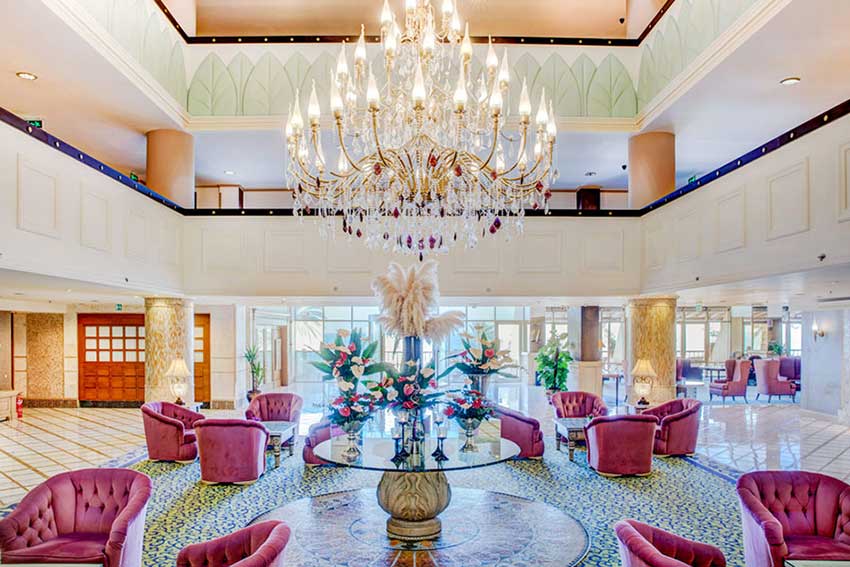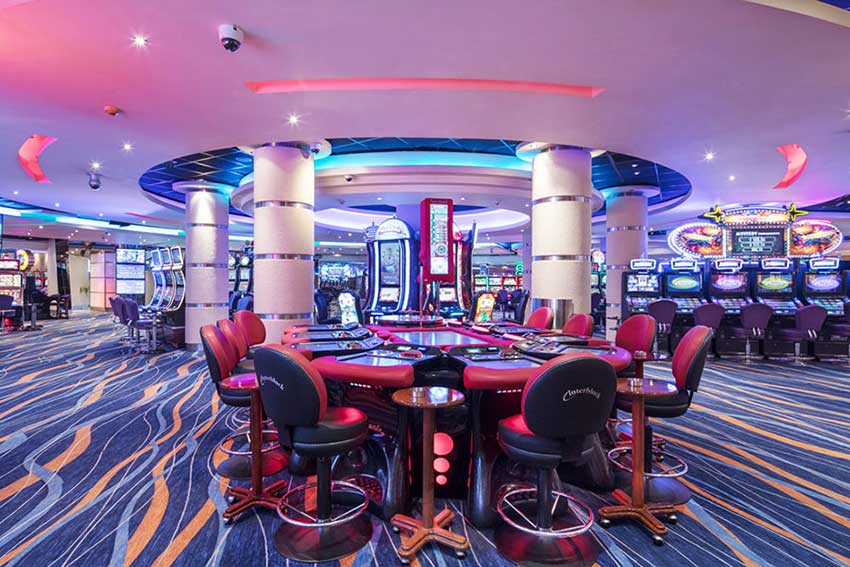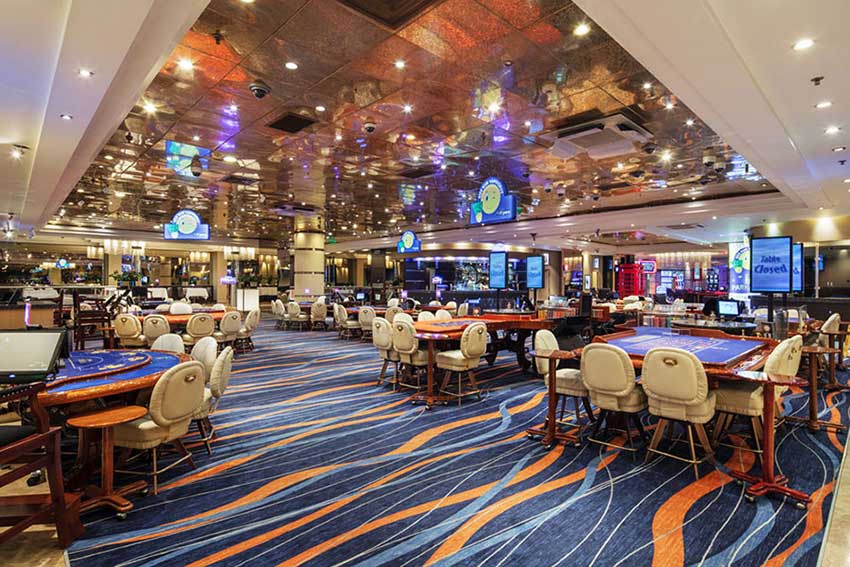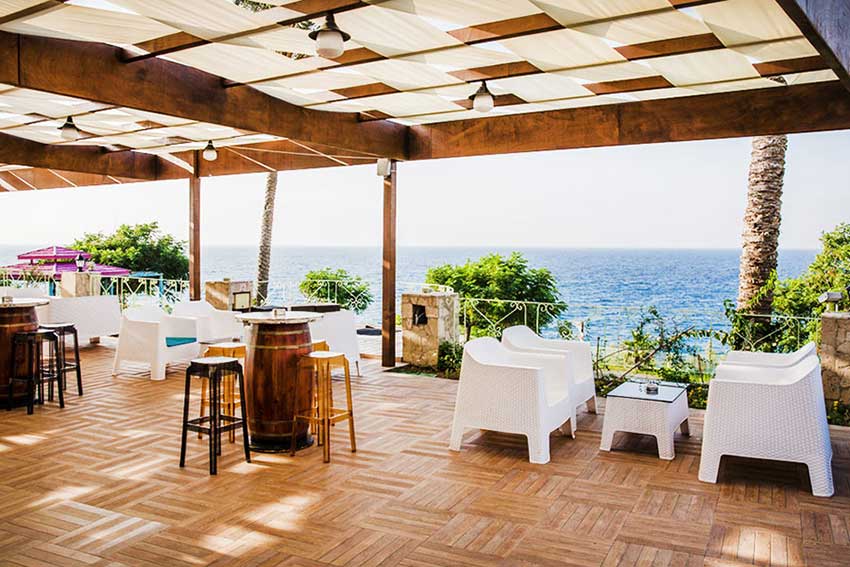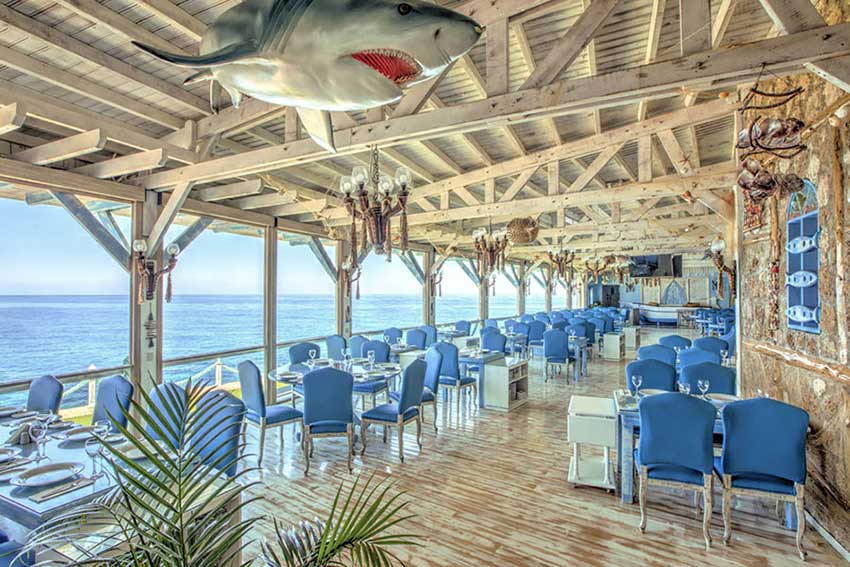 Holiday to Merit Park Hotel
Set right on the seafront, Merit Park Hotel in Kyrenia, North Cyprus is a luxury 5 star all-inclusive hotel situated 6 km west of Kyrenia city centre. The hotel features an impressive design inspired by the Kyrenia Castle, and was formerly Mercure Hotel. This chic and sophisticated hotel offers true 5 star standards and a wide range of facilities such as luxurious spa and wellness treatments, seafront manmade beach, sun terrace with loungers and a large outdoor swimming pool. Ideal for honeymoon couples and families looking for a luxury all-inclusive holiday experience in Northern Cyprus.
Merit Park Hotel Accommodation Details
Merit Park Hotel offers luxurious and tastefully designed rooms to ensure your comfort. These include 278 standard rooms, 2 disabled rooms, 12 suites with a living room, 2 deluxe suites with 2 separate bedrooms and a living room, and 2 king suites with 2 bedrooms, a living room, dining table, kitchen, bar, 4 bathrooms (Jacuzzi in the master bedroom) and dressing room. In room facilities include LCD TV, satellite TV, 24 hours room service, safety deposit box, central heating and cooling system, mini-bar, direct line telephone, hair dryer, bath tub, Wi-Fi internet and non smoking room, as well a choice of mesmerizing sea or mountain views.
Merit Park Hotel Facilities
Outdoor swimming pool
Steam room
Reception Service
Parking (Open)
Lift
Safety Deposit Box
Fresh Fruit Juices
Wireless Internet
Lobby Bar
lobby
Tennis Equipment
Basketball
Step
Pilates
Ping pong
Darts
Sauna
Water gymnastics
Beach volleyball
Archery
Mini Football
Fitness Centre
Boccia
Aerobic
Tennis court
Bath
Indoor heated pool
Soft Animation
Amphitheatre
Walking track
Beach towels
Kiddie pool
Children's Cinema
Mini Club
Children's Playground
Massage & Care *
Massage *
Gift Shop *
Telephone and Fax Service *
Rent a car *
Hookah *
Boutique *
Dry Cleaning, Laundry and Ironing Services *
Tennis Court Lighting *
Photo Service *
Game room *
Market *
Hairdresser *
Doctor (on request calling) *
Nurse (at certain times)
Dry cleaner *
Meeting room *
Beauty Centre *
Motorized Water Sports and Diving School *
Spa Centre *
Infant and Child care (pre-booked) *
24-hour room service *
Services marked with * are with extra charge.
Some service / facilities may not be available or may be restricted outside summer season.
Dining and Drinking
Buffet breakfast, lunch and dinner are free in Kybele Restaurant. Late breakfast is served until 11.00 on Sundays. Local and imported premium alcoholic and non-alcoholic drinks within the brands specified by the hotel are free of charge in Sherwood Bar (lobby) 24 hours. Letafet Bar serves concert days. Diet and vegetarian buffet are served at lunch and dinner buffets. At A La Turka Cafe, there are pancakes, sandwiches, pastas, rolls, fruits, ice cream varieties and local drinks included in Ultra All Inclusive.
A la carte restaurants, reservation required, and paid. The service bar serves at meal times.
A la Carte Restaurants
Fora Fish A la Carte Restaurant (Charged)
Park A la Carte Restaurant (Steak) (Charged)
Service Hours
07:00 – 11:00 Breakfast
08:00 – 24:00 Macaron Cafe & Bar (Foyer Area)
09:00 – 19:00 Vitamin Bar (SPA)
09:00 – 18:00 Buddha (Pool Area)
10:00 – 11:00 Late Breakfast
10:00 – 02:00 Pool Bar (Pool Area)
10:00 – 19:00 Beach Bar (Beach)
11:00 – 17:00 A La Turka Cafe (Pool Area)
11:00 – 17:00 Beach Snack (Beach)
13:00 – 15:00 Lunch - Diet and Vegetarian Buffet
17:00 – 24:00 Toranj Hookah
18:00 – 19:30 Children's Buffet (Mini Club)
19:00 – 21:30 Dinner - Diet and Vegetarian Buffet
24 Hours Sherwood Bar (Lobby)
Merit Park SPA & Wellness
SPA packages are available for health care and beauty therapies by certified therapists.
Massage centre with Far East and classic massage treatments
Traditional Turkish hammam
Spa Vitamin Bar (Fresh fruit juices and soft drinks)
Indoor swimming pool
Beauty centre (skin and body treatments)
Saunas
Steam bath
Fitness Centre
VIP massage rooms with jacuzzi
Kids / Baby
Kids Club offers activities such as food production, self-confidence activities, children's shows, inflatable games, skill-building activities, sports (water gymnastics, stretching, kids yoga etc.), healthy nutrition education, child disco and handicraft teaching.
Location – Seafront near Kyrenia Town Centre
The hotel is located in the Kervansaray area of Karaoglanoglu, 6 km west of Kyrenia town centre, 6 km from Ercan Airport and 86 km from Larnaca Airport.