Warning: Cyprus Turkish Airlines is no longer operating flights to Northern Cyprus.
Cyprus Turkish Airlines (CTA) know as localy Kibris Turk Hava Yollari (KTHY) was established in 1974 and first scheduled flight realized in 1975. CTA operates a fleet comprising aircrafts of types DC-9, Boeing-727-200 and Boeing-707 between Turkey, UK & North Cyprus. Flights from UK touch down en route at either Dalaman, Izmir or Antalya, and launched two new flights; Ercan - Gaziantep-London on November 18, 2006 and Ercan - Gaziantep on July 8, 2006.
Cyprus Turkish Airlines air fares
Flight Prices from the UK to North Cyprus start from £185 but as the seats limited in this class, it is recommended to book early.
Catering at Cyprus Turkish Airlines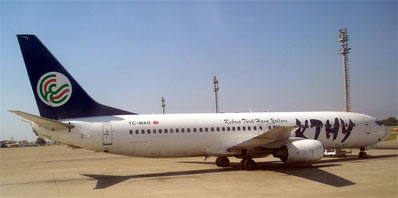 Cyprus Turkish Airlines Catering department aims satisfy and a relax passengers with their excellent experience. You will receive the best possible level of service during your flight.
Cyprus Turkish Airlines Cargo
CTA provides great cargo service between Turkey, Europe and all the destinations of Turkish Airlines.
UK Cargo office: Address: 11-12 Pall Mall London SW1Y5LU. Tel: (+44207) 925 3934
Cyprus Turkish Airlines Flight destinations
Stansted, Gatwick, Heathrow, Manchester, Belfast, Glasgow - Istanbul, Izmir, Antalya, Ankara, Gaziantep - ERCAN.